last change: 2008-10-02
HTC Touch Pro Skin

Hello Android fans and developers. I'd like to share with you some emulator skins I created for the Google Android SDK.
VGA-P-HTC-TouchPro
This skin features the HTC Touch Pro, a quite small device with a very high resolution screen.
Since a dedicated menu button is missing, I assigned it to the volume controls on the upper left side of the device. I placed the volume controls below them for reference.
resolution

VGA 480x640 (Portrait)

device color

black
Attention

The inner frame of the emulator will measure 1120x1170 px running this skin. If your screen is too small for this skin, please read my Android Emulator Tutorial for a way to scale the emulator window to a size suitable for your screen.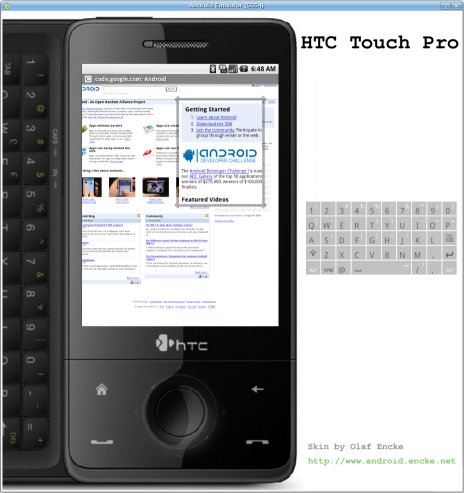 Installation

Unpack the zip file and copy the created directory and files to ./tools/lib/images/skins/ within the installation directory of the Android SDK.

For more information please read my Android Emulator Tutorial